Each staff member is a part of a highly qualified team of health professionals with an average of over 20 years experience in the orthodontic field. Our goal is to provide you and your family the highest quality of orthodontic care, and to make your time in our office a positive and fun experience.

We regularly attend continuing education seminars and have training sessions to keep our skills up to date and our treatment techniques state-of-the-art. We are committed to providing our patients with exceptional care. From the moment that you walk through our front door, we are committed to offering the most professional care.

We love the relationships we form with our patients, their families and our referring doctors. We consider our patients "one of a kind" in their interests...whether surfing, skateboarding, music, dance, gymnastics, computers, art, or whatever...we love to hear about your interests and achievements.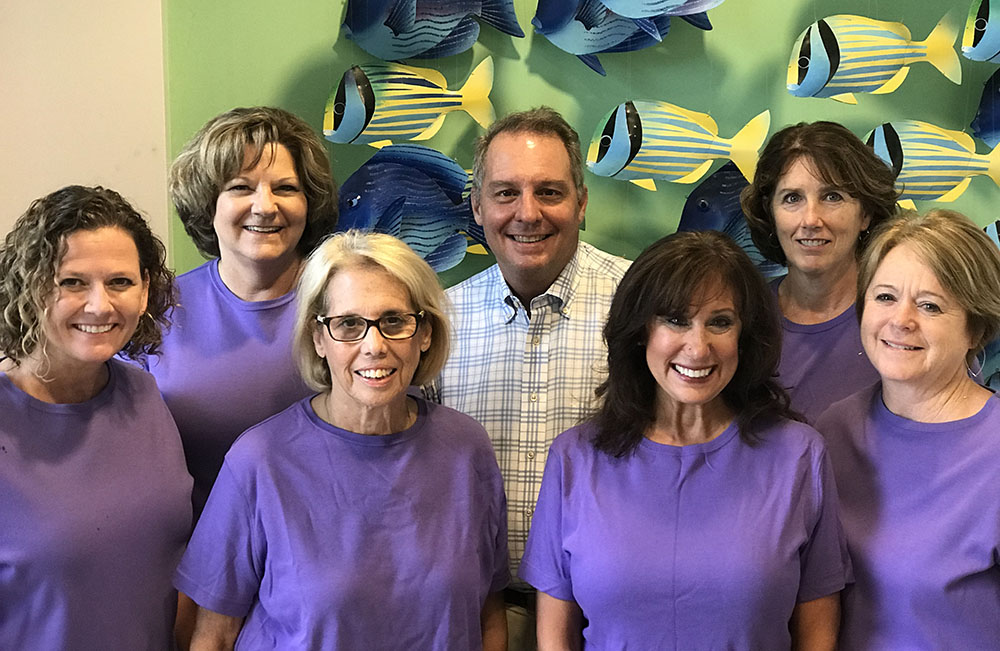 Geri-Lynn
Chairside Assistant
I love watching people's self-esteem grow as their teeth straighten! I work in the clinic, seating patients, preparing them for their procedure, and then assisting Dr. Richardson create the perfect smile.
I enjoy the variety of my day and all the excitement and energy each person brings to the office. It's fun to get to know people and be part of their journey! I felt welcome the first day I started here and I know our patients and their families feel the same!
My husband Craig and I moved here from Northern Virginia in 2017. We have two girls and one granddaughter whom we adore! I enjoy running, bowling, hanging out at the beach – and all that living near the beach offers!
Cathy
Chairside Assistant
I like working with and getting to know all our wonderful patients! Because I spend my days in the clinic, assisting Dr. Richardson, I see and spend time with everyone. It's amazing how changing a person's smile can completely change a person's life!
Our practice is lots of fun. Dr. Richardson and our team are always laughing with the patients and families, and everyone is full of smiles!
Originally from Canada, I am now a proud American citizen. I live in Southport with my husband; we have two adult children. I enjoy golf, kayaking, hiking, sewing projects, and traveling.
Betty
Chairside Assistant and Clinical Supply Coordinator
I like seeing how changing a smile makes a difference for people! Working in the clinic, I provide chairside assistance with different procedures. I also track our clinical supplies, making sure we're always ready to meet our patients' needs.
I love learning about each patient's life and knowing that what we do builds confidence and self-esteem with each new smile we create! Working with Dr. Richardson and our team feels like working with family. We make our patients' comfort, and smiles, our top priorities!
Outside the office, I enjoy spending time with my six grandchildren, finding treasures on flea market trips with my husband, Larry, and long walks with my Australian Shepherd, Chloe. I was lucky to grow up on a farm where we learned strong work ethics and our community was considered our family.
Amy
Chairside Assistant
I enjoy helping patients with their self-confidence by improving their smiles! I spend my days in the clinic, assisting the doctor, offering patient care, and encouraging our patients to keep their teeth clean and healthy.
I love working one-on-one with people and working with Dr. Richardson and my teammates. Dr. Richardson is genuine, compassionate, and his great sense of humor keeps all of us, especially the patients, laughing!
Outside of helping to create smiles, music is my biggest passion! I love living in Carolina Beach with my husband and our two dogs, Cooper and Sugar.
Valerie
Front Desk and Office Assistant
I love interacting with people and getting to know each patient and their family, personally. Working at the front desk, I help with organization and planning for the office.
I love to see the changes in each patient as they grow through treatment and celebrating their finished, beautiful smile with them! Dr. Richardson and our team believe in treating each patient with respect and compassion and our patients appreciate that.
In my free time, I enjoy playing with my six grandchildren, four dogs, three cats, and being with my two children and one husband!
Diane
Appointment and Treatment Coordinator
I like helping with educating patients about orthodontics and developing a rapport with patients and families throughout treatment. I am sometimes called the "face of the practice" because I schedule appointments and am the direct liaison between Dr. Richardson and our patient family.
I love working with Dr. Richardson and our team because we have a fun, upbeat, and family-friendly atmosphere. We care about each other and care about our patients!
I relocated from New York in 2012 to be closer to the beach and have fun in the sun with my Boston Terrier, Mickey. In my free time, I love traveling to visit my family, especially my grandchildren.
Dina
Office Manager
I enjoy working in a family-oriented atmosphere and watching our patients transform along with their beautiful smiles! I take care of the financial aspects of the office, oversee the daily operations, and keep tabs on patients' treatment.
I like working with our upbeat staff members and admire Dr. Richardson's integrity and attention-to-detail with our patients. We really do change lives, one person at a time!
I moved here for the sun and the beach and I make the most of that decision, spending every free moment I have enjoying the area with my three grandchildren!